Grand Cherokee L Trim Levels Explained
Grand Cherokee L Trim Levels Explained
The Jeep brand offers possibly the most comprehensive lineup of vehicles for automotive customers. In this article, we'll look at the four available Grand Cherokee L trim levels in detail.
Overview of Grand-Cherokee L Models
Jeep's flagship model is the Grand Cherokee, a four-door SUV with a character that attributes to harmonious everyday commute and exciting weekend driving to or from various recreational activities. The new inventory of various L trim levels of the Grand Cherokee offers consumers a tremendous amount of options, both in features and style.
Generally, the Grand-Cherokee L features its legendary off-road capability, with the base engine being a 3.6-litre Pentastar V6 producing 290 horsepower and 260 lb-ft of torque for towing up to 7,400 lbs. Fuel economy is rated at 13 city/22 highway L/100KM.
The upgrade engine is a 5.7-litre HEMI V8 producing 360 horsepower and 390 lb-ft of torque for towing up to 8,600 lbs.
Besides that, the base Grand-Cherokee L model has everything you need but a few frills. So if you are looking to get the most out of a vehicle purchase, this is one of the few machines that offers you just that. It has power windows and door locks, cruise control, keyless entry, and 18" wheels.
However, the fun and options do not end there; the Jeep inventory has a wide range of optional upgrades for added comfort, sportiness, and convenience. For example, there's a 6CD Changer/MP3 Player, Power Sunroof, Dual-Zone Climate Control which allows you to control the temperature in the front two seats fully and the rear, heated seat, ventilated front seats flanked by a cooling glove box, and cup holders.
For enthusiasts looking to get the most out of their rig, there's also an Off-Road Package that includes skid plates for oil pan and transmission as well as rock rails in the lower half of the body.
Jeep Grand Cherokee L Trim Levels
The Jeep Inventory boasts four trim levels: Limited, Overland, Summit, and Summit Reserve.
Limited Trim Level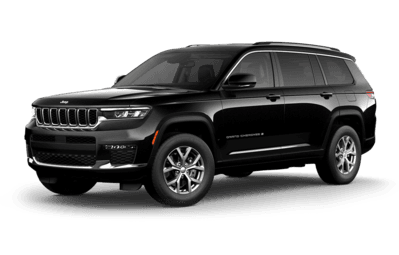 The Jeep Grand Cherokee Limited kicks off the luxury levels for the Jeep Grand Cherokee Laredo. But, unfortunately, it's available only with a 6-speed automatic transmission. Black leather upholstery and heated seats are standard, as is an Infinity sound system with a single CD player, 18" wheels, and four-wheel disc brakes. Additionally, this trim level comes standard with the 5.7-litre V8 Hemi and all the features found on the S trim. Available options include a navigation system.
Overland Trim Level
The top of the line Jeep Grand Cherokee Overland comes with a 5.7-litre V8 Hemi, leather seats, heated front seats, dual-zone climate control, and an upgraded Infinity sound system with auxiliary input for your iPod. The new inventory also features an enhanced ParkView rear backup system with a larger display. Furthermore, this trim level includes a power sunroof and 18" wheels.
Summit Trim Level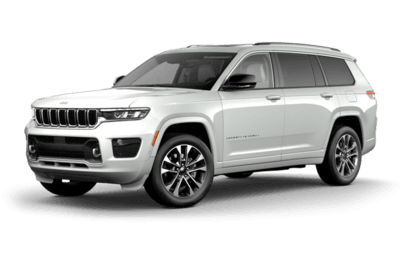 The Summit's standard 5.7-litre V8 Hemi engine is supplemented by the Quadra-Lift air suspension, which operates as four distinct height settings: Normal, Street, Off-Road 1, and 2. This means that the Jeep Grand Cherokee Summit can travel over any terrain you come across with maximum off-road capability while maintaining a smooth, comfortable ride on paved roads.
Plus, the Summit trim level of the Jeep Grand Cherokee Laredo comes standard with two-tone leather seats, full power accessories, and a six-disc in-dash CD player. Options include adaptive cruise control, blind-spot monitoring, and rear cross-path detection.
Summit Reserve Trim Level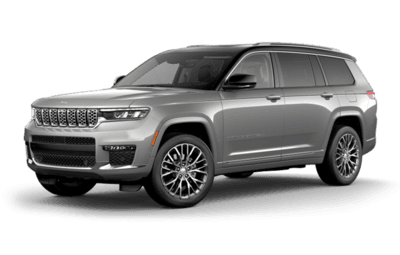 The Summit Reserve is the top-of-the-line Jeep Grand Cherokee Laredo. It features a 5.7-litre V8 Hemi engine, an Infinity sound system, a CD player, nine speakers, leather seats, and heated front seats.
Moreover, this new inventory offers models with QuadraLift air suspension and 20" wheels. Options include a navigation system. Furthermore, this trim level is also equipped with a feature called the Quadra-Drive II.
Like the Summit trim, it can switch off-road modes based on road conditions, Normal, Auto, Lock, and 4WD. In addition, this system can also utilize four new driving modes: Snow, Tow, Sand/Mud, and Deep Sand/Mud. Which Grand Cherokee L trim level do you want to tour in the most? If you already know, contact us to book your test drive.
Grand Cherokee L at Midland Chrysler in Midland, Ontario